There's a Boy in the Girls' Bathroom
Written by Louis Sachar
Reviewed by Rebecca L. (age 12)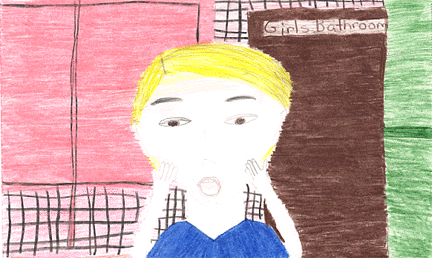 The book that I read, "There's A Boy In The Girl's Bathroom", is about a boy named Bradley Chalkers, who is the meanest student in the fifth grade. He is friendless and a bully. Jeff Fishkin, a smart student who gets straight A's, and Bradley who gets straight F's become friends. It is a humorous book, with one of the events being that Jeff chases Bradley into the girl's bathroom when he is mad at him and fighting with him. Bradley's triumph comes through his friendship with Jeff. Bradley gets his confidence restored eventually, and he even starts doing his homework.
A new counselor helps Bradley get through his tough times Because of Bradley doing better he gets something special. I can't tell you what the special thing is because it would ruin it for you.
I liked this book because it was very funny but also very emotional, and sometimes serious. I like how Jeff was a influence on Brad, to help him do better. I think this shows a lot about how things can change when we have good friends to help us with our downfalls. Jeff and Bradley show a good example of this in the book. I also enjoyed reading this book because I thought that it could happen in real life.
This book has won different awards in the literary field. I would recommend this book to boys and girls who like humorous books. You will really enjoy it!
On the scale of one to ten, I would rate it ten.