Lions at Lunchtime
Written by Mary Pope Osborn
Illustrated by Sal Murdocca
Reviewed by Serena S. (age 8)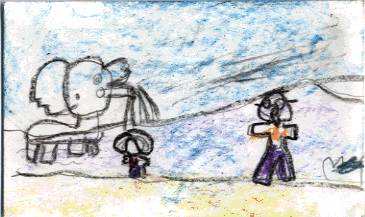 This story is about Jack and Annie. They go to the plains of Africa. There they see different kinds of animals like giraffes, zebras, and wildebeests. The riddle that they need to solve in this story is, "I am the color of gold and as sweet as can be but beware of the danger that lurks around me". They finally solve the riddle which leads them to a beehive and honey. Then they return home.
My favorite part of this book is when the elephant gives Annie a shower from her trunk. This book is funny because Annie keeps playing with animals and Jack doesn't want her to because he's afraid she might find the lions. I also like the part where Jack and Annie meet the Masai warrior and when they share their peanut butter with him. The pictures in this book remind me of the animals I see at the zoo.
I think others should read this book because you learn about the different animals in Africa.