The Story of Ruth
Written by Katherine Storr
Illustrated by Geoff Taylor
Reviewed by Cortney W. (age 10)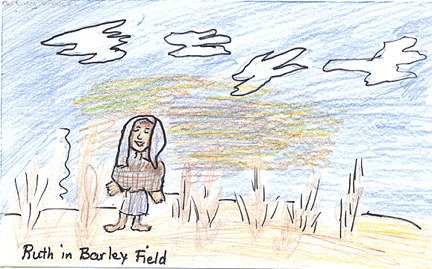 The story is about an Israelite couple, Elimelech and Naomi. They had two boys that married two Mobite women, Ruth and Orpah. It talks about the death of the three husbands and how Naomi wanted to go back to her homeland of Bethlehem. Ruth did not want to stay in the land of Moab without her mother-in-law who she loved very much. Naomi did not want Ruth to follow her to Bethlehem. The remainder of the story tells of their life in Bethlehem with her relatives working in the barley fields. The ending of the story tells how Ruth married Boaz and they had a son Obed.
This shows that one woman obeyed God and felt strongly about what he wanted her to do. I liked the story because it teaches you to obey what the Lord tells you to do.
I think the illustrations were pretty, because it showed the feelings the character felt, and the colors in the pictures helped to make it a nice story.
My favorite character, of course, was Ruth, because she didn't want to depart from her mother-in-law. This to me showed true love of a friendship between them. She said that she wouldn't let anything part them, not even death.
I would recommend this book to anyone that likes Bible stories. This book would be good to read because it teaches you about God and people that follow and obey him. This is a good introduction to Bible events that children across the world would enjoy. On a scale of one to ten I'd give it a nine.