The Boxcar Children
Written by Gertrude Chandler Warner
Illustrated by Likate Deal
Reviewed by Mohamed T (age 10)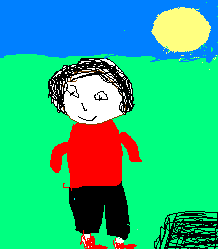 One warm night same children stood in front of a bakery. No one knew them. No one knew where they had come from. Their names were Henry, Violet, Benny and Jessis. The children used to live alone in a boxcar. Now they live with their grandfather. While living with their grandfather they find a mysterious painting hidden in the attic. The children learn that it was a portrait of their grandmother, whom they never knew. She was wearing the necklace that disappeared on her first anniversary, and was never found. Can the boxcar children track down a necklace missing for so many years?
I like how reassured Violet was. She was only ten and she often seems to be more considerate of others than some older people are. Violet never felt that something was final. She felt that there was a possibility that something good could always happen no matter how bad something seemed. I also like how the children all stayed together and cared for one another. Also with the children being so curious and wanting to know so much, especially when something did not feel right this made them somewhat great little detectives.
I recommend this book to kids of all ages. I also recommend this book to older kids who have siblings. If you want to help your little sister or brother get into learning how to read, then why not start out with a book that has a little mystery in it. I think by doing this, this will get them curious and want to learn how to read for them selves. This book is full of short story. Each short story ends with you wanting to find out what happen next. I would also recommend this book for anyone who loves a good mystery. This book is full of mystery. So PLEASE when you get a chance read this book. Kids can go to a public library to get this book. Maybe even the library in their schools.