Katherine's Doll
Written by Elizabeth Winthrop
Illustrated by Marylin Hafner
Reviewed by Blanche L. (age 8), Alex M. (age 7) & Megan P. (age 8)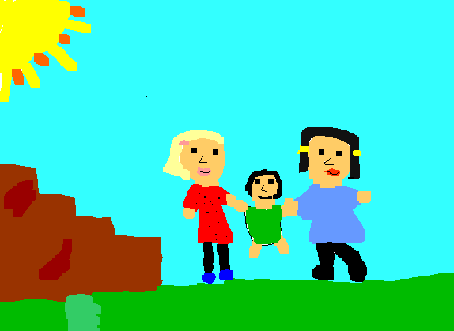 Katherine's Doll is about two girls named Katherine and Molly. They are very best friends. Katherine taught Molly how to sing Miss Mary Mack while jumping rope. And they would go roller skating together almost all the time. But one day Katherine got a new doll from her grandmother. While she was looking at the doll she called her friend Molly to come over and play. Molly and Katherine played with the doll for weeks. Molly's now getting much closer to the doll. Then one day Molly wasn't playing with Katherine anymore. She was only paying attention to the doll. Read this book and find out if Molly is going to choose Katherine or the doll for a best friend.
We loved the book because we learned a lesson. The lesson is when you get something new it doesn't mean that when your friend comes over to play you only play with the new doll. This story is realistic because you can get in a fight with your friends. Blanche's favorite part is when Katherine got the doll from her grandmother because Katherine looked very excited about what it might be. Megan's favorite part was when the doll fell back and stared at the ceiling because it was funny. Alex liked when the girls were rollarblading.
We recommend this book mostly to girls because it is about two girls and one doll. We think ages 5 through 8 would enjoy this book because it is about friendship and getting along.