The Snow Child
Written by Freya Littledale
Illustrated by Barbara Lavallee
Reviewed by Kevin S. (age 8) & Alex S. (age 9)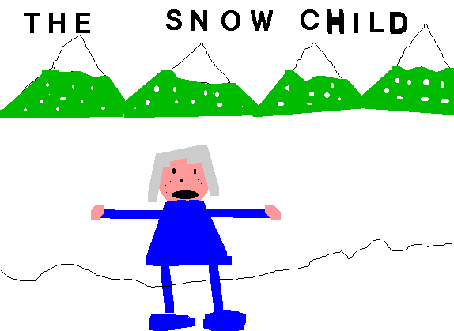 One day a man and a woman built a snow child.The man said, "I wish she was alive. I would like to have a child." Magically, she came alive. she had hair made of willow branches covered with frost.She had very red lips.She sat in a snow bed but she was never cold. She helped the villagers make an ice palace in the winter. They liked it very much.One day it was springtime and it became very warm and sunny. The village children invited her to come outside and play in the sun. She did not go out. she began to feel sick. Her lips lost their red color . As the snow melted , she became weaker.She went to her parents and said, "I am a child of the snow and I must leave. I will return when the winter comes again."
Our favorite part of the book was when the snow child built the palace because it was huge. It had horses' carriages. We thought that the story wasn't possible because the snow child came alive when the man said, "I wish it was alive." Also, she built a big palace.
The illustrations are beautiful. They were light and pretty like snow. It reminded us of the time when we were five years old and we couldn't build a snowman.
We recommend the book to students who like playing in the snow. This book tells us about what can happen when you believe in something.