Young Cam Jansen and the Missing Cookie
Written by David A. Adler
Illustrated by Susanna Natti
Reviewed by Justin K. (age 8) & Austin P. (age 7)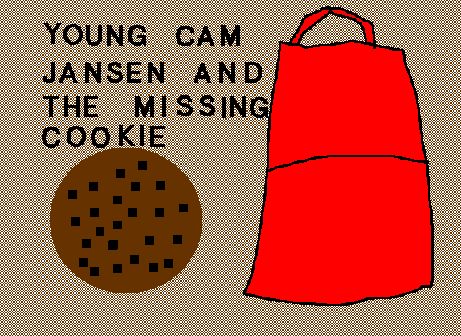 This is about a missing cookie and a little 7 year old girl named Cam Jansen with an amazing memory. "Rrrr!" the school bell rang and it was time for lunch. Jason opened his lunch box and the cookie his dad baked for him was gone. There was only cookie crumbs and his lunch. Then he asked everybody who has a cookie if they have his cookie. If you want to know who stole his cookie, you should read this book to find out what happens next.
We loved this book because we love chocolate chip cookies very much. Justin's favorite part was when Cam and Eric found out who stole the chocolate chip cookie. We like it when Cam and Eric figured out the mysteries. We also like the illustrations. Austin especially liked the apples in the background and Cam in the foreground. This book reminds Austin about the time when he almost lost his favorite toy. We feel sad for Jason who was the owner of the cookie. This book is part of the Young Cam Jansen series.
People who love mystery books like Encyclopedia Brown would also like this Cam Jansen Mystery book. We recommend this book to first grade to fourth grade readers.