Where the Wild Things Are
Written by Maurice Sendak
Illustrated by Maurice Sendak
Reviewed by Tahid A. (age 9)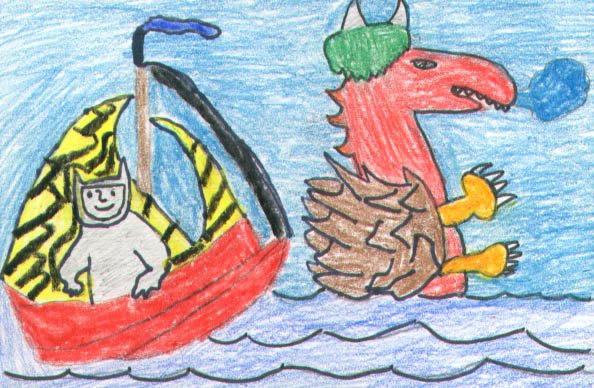 My story is about a boy who has a crazy imagination. First he wears a fox's skin, (a costume), and makes a lot of mischief. He wasn't behaving nicely, so his mom sends him to bed without supper. Max's bedroom turned into a forest. He went across the ocean and landed on an island. What adventures will Max have on the island? You'll just have to read the book.
I think this book is really interesting because the boy becomes king of the wild things. Also I like this story because the boy is not afraid of the wild things. Max is my favorite character bcause he has a unique sense of humor, and he has a crazy imagination. I think it's unique when Max sailed the ocean without being attacked by the monsters because monsters are ferocious. The illustrations were great because the monsters looked very strange. I felt very curious when I read the book. This reminded me of a ride at Knott's.
I recommend this book to people who have a strange imagination and a weird sense of humor. Read this book to find out Max's adventures and all the things he meets.