Three by the Sea
Written by Edward Marshall
Illustrated by James Marshall
Reviewed by Stevie I. (age 8)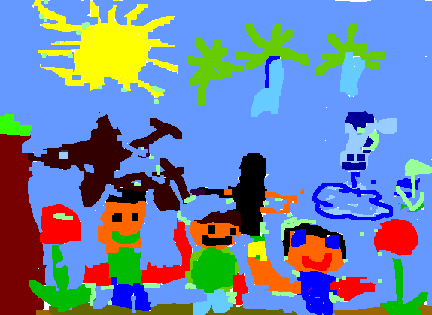 This book is about three kids named Spider, Sam and Lolly. They were at the beach. The kids ate too much lunch so they could not go swimming. Lolly said, "I will tell you a story about a dog and a cat." When the story was over, Spider said, "That was no story." Then Sam told a story and Spider told a story. Spider scared Lolly and Sam when he said "BOO." Lolly and Sam jumped ten feet up. Then the kids went swimming.
This book is a good book because it reminds me of when I went to the beach. I had lunch and then I went swimming. I like the illustrations in the book because the illustrator uses some of my favorite colors.
I would recommend this book to my friends. They would like the pictures. They might like the part when Spider told the story about the monster.