A Weekend with Wendell
Written by Kevin Henkes
Illustrated by Kevin Henkes
Reviewed by Supreet A. (age 7) & Tara S. (age 7)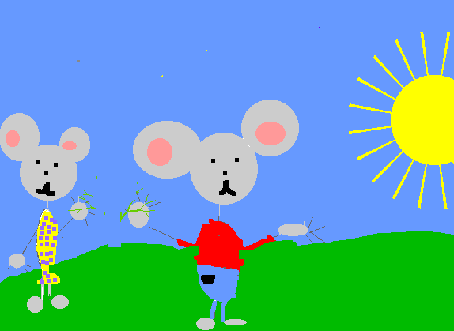 Poor Sophie! Why does she have to play with Wendel? Sophie is a girl mouse who wasn't excited that Wendell was coming over for the weekend. Wendell's parents and Sophie's parents decided that Wendell was going to stay at Sophie's. Wendell wasn't being nice to Sophie. Wendell made Sophie carry his stuff up the stairs. Wendell ran up the stairs with joy. They decided to play house. Wendell was the father, mother, and five children. Sophie was the dog. Sophie didn't like the way Wendell was acting. She really didn't like when Wendell put shaving cream on Sophie's head. Then they went to wash it off with the hose. Read the book to find out if Sophie and Wendell become friends.
Our favorite part was when Wendell and Sophie decided to play games because we thought it was funny when Wendell made Sophie be funny things. He made her be a sweet roll, a dog, and a desk clerk. Supreet had a text to text connection between A Weekend with Wendell and Lily's Purple Plastic Purse. Sophie and Lily are both mice. Tara liked the illustrations by Kevin Henkes, especially the mice because she thinks they are cute. Supreet liked the way the author stretched things out a little bit and did not tell everything all at once. She liked it because it is a good example for children writers.
We recommend this book to people who fight a lot and can not stop fighting. This book teaches you a lesson - when you are fighting you should try to work it out and solve the problem together.