The Magic Fish
Written by Freya Littledale
Illustrated by Winslow Pinney Pels
Reviewed by Brayden H. (age 7), Lance B. (age 8) & Joshua F. (age 7)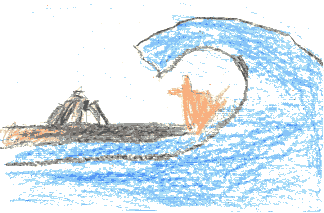 Did you ever want to make a wish? Do you dream about being something cool? In this story there was an old fisherman and a woman who lived in an old wooden hut. The man caught a fish?not just a fish?a magic fish! The fish can give them some wishes but the problem in this story is that somebody is too greedy. You?ll have to find out what happens next.
Lance liked all the pictures, because the fisherman?s dog is funny. The dog has a surprised look on his face when he saw the bone in his bed. Joshua liked the ending of the story because somebody got what they deserved. Brayden liked the greedy person because that person was always asking for stuff. He thought the fisherman shouldn?t have to go back to the magic fish because it wasn?t his wish.
We think everybody will like this story because it?s funny and a part of it is about being greedy. Everybody is greedy sometimes.