Star Wars Jedi Apprentice: The Mark of the Crown
Written by Jude Watson
Reviewed by Amir A. (age 9)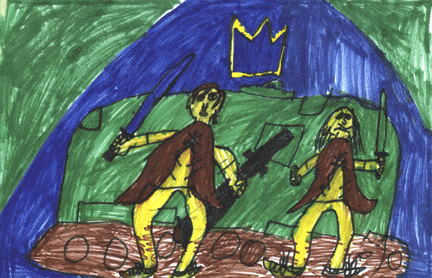 I loved reading this book. It?s so exciting and full of suspense. Enemies turn friends. Friends turn enemies. Who has the mark of the crown? Why is the Queen of Gala dying? Will the Queen survive? Who will be governor of Gala? Will the hill people vote?
This book is about obi-Wan and Qui-Gon coming to planet Gala on a mission to be guardians of peace. Prince Beju is furious with his mother for deciding to have elections determining ruler of Gala because he has the Mark of the Crown? Or does he? Read Star Wars Jedi Apprentice, the Mark of the Crown to find out?
I really enjoy this book. I think you should read all the previous books in the Star Wars series. You also might want to read books that come after this one. They?re called Star Wars Jedi Apprentice: The Defenders of the Dead and Star Wars Jedi Apprentice: The Uncertain Path. All the books are by the same author and they?re all just as exciting. Read them all!