The Boxcar Children and the Old Motel Mystery
Written by Gertrude Chandler Warner
Illustrated by Charles Tang
Reviewed by Bailey C. (age 8)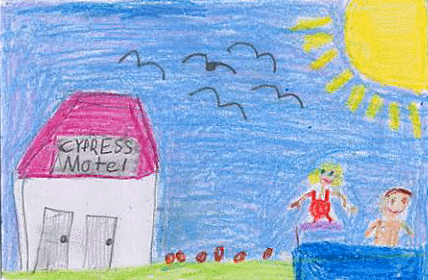 Isn't Florida great? If you think so, the Boxcar children agree with you. Jesse, Henry, Benny, and Violet are going to Florida to visit their Aunt Jane's good friend Kay Kingsley. The Boxcar children are greeted by a mossy swimming pool, a tennis court full of weeds, and a shabby motel.
Even though there aren't too many illustrations, they look realistic and I wonder how the illustrator made them look so real. My favorite illustration is when Violet and Jesse are talking to their grandpa over the phone because they want to tell him what a good time they're having.
While there, they find out that someone is trying to destroy the motel and keep it out of business. Could it be Rolf? The most helpful and only employee. Or Catherine? The college student from the University of Georgia. Or Millicent Fair? The little old lady from unit 10. Read the Old Motel Mystery to find out!
I like the part when the Boxcar children think the prowler is on the roof but it turns out to be Kay's cat Willie. My favorite character is Rolf because he is always willing to help people. I also liked this book because it is exciting and after you read the last sentence of each chapter you want to read on.
The Old Motel Mystery might remind readers of a great vacation or when they turned something from no good to great or even solved a mystery.
This book would be a good book for advanced second grade readers and good third graders. This will probably be an easy read for fourth grade. So go to your library and grab the Boxcar Children and the Old Motel mystery!