Night of the Ninjas
Written by Mary Pope Osborne
Illustrated by Sal Murdocea
Reviewed by Kevin A. (age 8) & Raza Z. (age 8)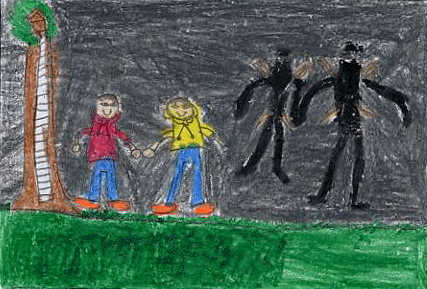 Have you ever met real live Ninjas? Well Jack and Annie have. They meet real Ninjas in this wild adventure, so listen up. This time Jack and Annie's amazing adventure is in old Japan. Jack and Annie land in a beautiful tree with white and pink blossoms. They spot two Ninjas. The Ninjas also spot them. Clang! Clang! Went their spikes as they were climbing the tree. Jack and Annie think that the Ninjas are going to threaten them so they wildly look for the Pennsylvania book (the book that can send them home), but they can't find it because their heart knows they have a mission to complete first.
The Ninjas signaled by pointing their finger to follow them. It was a tough journey to get from the tree house to the secret meeting place inside a hidden cave where the Ninja master lies. When they arrived, the Ninja master asked them a few questions like where they came from. He also tells Jack and Annie to use nature, be nature, and follow nature. To use nature means to make compasses or other things to help them get back to their tree house. To be nature means to act like any source of nature, then you turn into it and follow anything that is nature.
The Ninja master strapped on his sword and said, "You must go to your tree house. It lies East - and beware of the Samurai!" One of the Ninjas pointed (and we just can't tell you anymore, or we might ruin the book for you.)
We both liked how Mary Pope Osborne used a lot of descriptive language like, "The icy wild waters swirled around them. It went up to the Ninjas waists but the Ninjas moved through the stream as calmly as two sailing ships." We also liked the cover because the white and pink blossoms with the tree house were beautiful. We both felt excited when we were reading this book!
We recommend this book to people who like adventure and action. Night of the Ninjas is a good book for grades two through four. If you like to read series books this is a good place to start. This book is part of a series called Magic Tree house, and all of the Magic Tree house books involve Jack and Annie. If you like Ninjas and Samurais, and want to have an exciting adventure you'll like Night of the Ninjas.