Cam Jansen and the Mystery at the Haunted House
Written by David A. Adler
Illustrated by Susanna Natti
Reviewed by Robert B. (age 8) & Luke I. (age 8)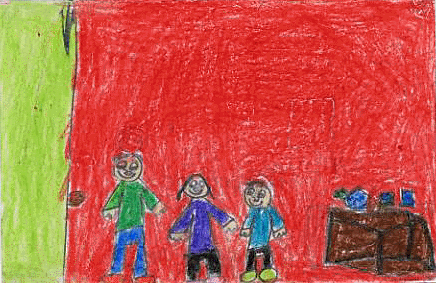 When Cam, Eric, and Aunt Katie entered the haunted house a black cat jumped out at them! They became frightened and started running until they finally reached the end of the haunted house and ran out. Whew! said Cam. My heart is beating hard. They slowed down and Eric asked, "Can we have a snack?" "Okay," said Aunt Katie. When they reached the snack stand Aunt Katie opened her pocketbook and her wallet was gone! To find out what happened to Aunt Katie's wallet read Cam Jansen and the Mystery of the Haunted House.
We thought the lesson in this book was never to steal. We also thought the big idea was to always stick together because Cam got lost walking in the crowd.
I (Luke) thought the illustrations were good because they were black and white sketches that reminded me of when there was only black and white television. My favorite part was when Cam finds out who stole the wallet because I liked when they chased the robber.
I (Robert) liked this book because it has good illustrations and it was interesting. The children in the story were trying to solve a mystery to help find Aunt Katie's wallet. The author uses a lot of details to explain what was happening. This helped me understand the action. This book is part of a series. All the books in the series are mysteries. Each book tells about an adventure that Cam Jansen has and each book has some of the same characters. This helps me understand too. When I read about the man stealing Aunt Katie's wallet it reminded me of something that happened to my mom. When we were at a carnival, she dug into her back pocket and her wallet wasn't there. A pick-pocket stole it!
We recommend this book to children who like mysteries because the author gives you good clues and you can figure out the mystery. Some first graders will be able to read this book, and it would be good for most second and third graders. Fourth grade and up will find the Cam Jansen series an easy read.