A Chair for My Mother
Written by Vera B. Williams
Illustrated by Vera B. Williams
Reviewed by David P. (age 7) & Pauline P. (age 8)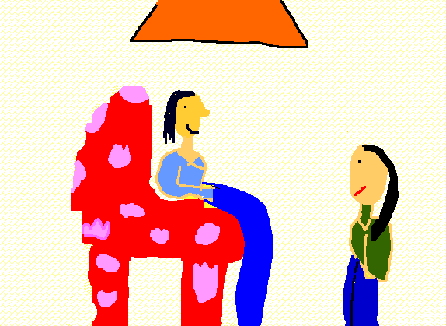 Do you like ot save money for special things? The mother and girl were coming to the house when they recognized their house was on fire. They saw everything was turned into charcoal and ashes. The mother worked in a restaurant. The mother gets tips from her work. They collected the money and put it in the jar. Once they fill up the jar they will buy a comfortable sofa. They always dreamed of a rose sofa. Soon the jar was full. They put the coins in bags and went to the bank for ten dollars. Then they went to the store and found a rose sofa. They sat there every night.
The pictures were awesome. We liked the book because the illustrations were fantastic! Our favorite part was when the money jar was full because then they were able to get the chair they dreamed of. This book is not a part of a series. We felt bad while we read this book because their house was on fire.
We recommend this book to families who like to buy beautiful armchairs because the mother bought an armchair. We think that people who work hard and save money for things that they want will like this book. If you like spending special time with your family you might like this book.