Summer Fun
Written by Carolyn Haywood
Illustrated by Julie Durrell
Reviewed by Julie K. (age 8) & Becky P. (age 9)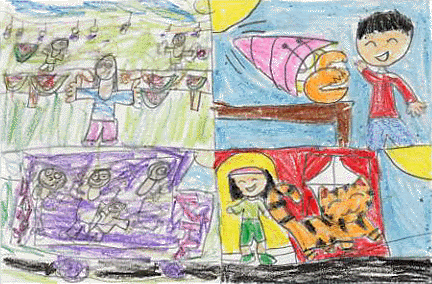 Have you ever had lots of experiences during the summertime? This book has short stories about a girl named Betsy and her friends who have lots of experiences one summer. They have an exciting time having a watermelon party, running a hammock club, helping the ice cream man, and much more. In "A Bell for Jim Dandy" Billy, Betsy, and Star help Jim Dandy, the ice-cream man, by ringing a triangle in his ice-cream truck. In "The Watermelon Party" Betsy holds a watermelon party and a boy comes who is eager to win. Just you wait and see what the boy does. In "The Hammock Club" Betsy gets a new hammock in her backyard and her friends start to go on the hammock without permission. The friends begin to fight over who gets to go on the hammock first. Betsy and her friends form a hammock club. In "Eddie and the Hermit Crab Races" Eddie gets a hermit crab from his friend Anna Patricia. He enters it into a race on the beach. Will Eddie and his crab win? If you want to find out what other fun things they did, read this book.
We like the book because we can really relate to it. (Julie) This remind me of when my camp had a watermelon festival. (Rebekah) This book reminds me of the hermit crab races I watched when I went to Jamaica. We like the illustrations because they are very detailed. Our favorite illustration is the picture of Betsy and her dog sitting on a rock in a terrible thunderstorm. There are not many illustrations, but they make us jump right into the story. (Rebekah) My favorite part is when Betsy gets stuck on a rock in a thunderstorm. (Julie) My favorite part is when Eddie is at the hermit crab races. I like this part because it gets exciting.
We recommend this book to people who like to go on trips because the kids in the book go on fascinating trips. We also recommend this to people who do or don't go to camp and to people who are bored all summer. If you are any of these people, read this book.