Polar Express
Written by Chris Van Allsburg
Illustrated by Chris Van Allsburg
Reviewed by Lauren T. (age 9) & Nicole M. (age 9)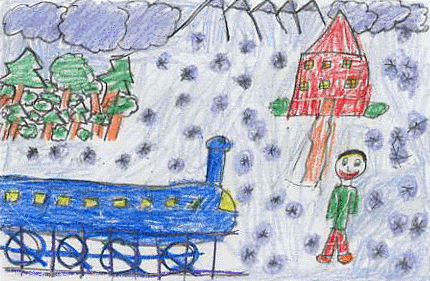 Do you believe in anything magical? Well this story is about a boy who does. He is woken by a train. The conductor of the train tells the boy he is going to the North Pole because Santa will be giving the first gift of Christmas to one of the children on the train. When they arrive the children see hundreds of elves wearing red and green clothing, top to bottom. When they are practically in the middle of the city, the children see Santa, his reindeer, and his sleigh. All of the children stand in line, one by one, straight across. Out of all the children standing in line Santa chooses the boy to receive the first gift of Christmas. If you want to find out what the boy chooses and what happens next, read The Polar Express.
We think the big idea of the story is never give up hope for what you believe in because in the story the boy actually meets Santa because he believes in him. (Lauren) The illustrations make me feel calm. We wonder how someone can paint such detailed pictures that make you feel like you are actually in the book. (Nicole) I think the illustrations are both enchanting and appealing. It puts me right into the story watching their every move. Nicole's favorite part is when Santa gives the first gift of Christmas because not every child gets a chance like that. Lauren's favorite part is when the boy is on the train drinking hot chocolate because it made her feel calm and want to be there. We think the book is phenomenal. We also think the author's way of writing is very descriptive. This book reminds Lauren of when she opens presents on Christmas morning.
We recommend this book to people who believe in something magical. If you like to read fiction books this would be a great book for you. We also recommend this book to people who love to read about the holiday season. If any of this interests you, read The Polar Express.