Esio Trot
Written by Roald Dahl
Illustrated by Quentin Blake
Reviewed by Jasmin R. (age 9)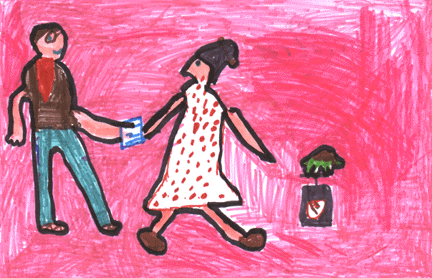 Do you like Roald Dahl? Well if you do, and you also like tortoises, then this book is for you.
Hoppy is a guy, an old guy, that lives alone on the second floor of an apartment building. He has two loves ? Mrs. Silver and his plants. Mrs. Silver has a tortoise that she loves and his name is Alfie. Alfie only weighs 13 ounces, which is a very small amount. Mrs. Silver asked Mr. Hoppy if there is a way to help Alfie grow faster. Mr. Hoppy handed her a note and the note has something to do with Mr. Hoppy?s plan. Later, he had to buy about 140 tortoises for his plan.
The end of the story is my favorite part which I cannot tell you but it is very funny. I love this book because I wanted a tortoise for my birthday, and a character in this book has a tortoise.
I think you should read this book because it has a very good ending and you?ll think it?s funny. Also, I?m sure you?ll think that Alfie is very cute too.