Dinosour Dinners
Written by Lee Davis
Reviewed by David S. (age 7) & Vlad Z. (age 8)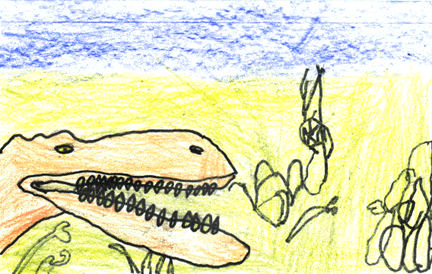 This book tells you about what dinosaurs eat.
We think Dinosaur Dinners is a great book because it tells you about dinosaurs and how they eat. It also tells you about the other things they do. The Tyrannosaurus Rex looks frightening because it is so big. If a dinosaur is as tall as a Barosaurus and he wants to go a long way, he needs to eat huge amounts of leaves to keep himself going. He uses his long neck to reach the tops of trees. He can see danger coming from many directions. He is much taller than any of the meat eaters.
Our favorite part of the book is when it tells about the dinosaur's tail.
If any of you likes dinosaurs, it would be good for you to read this book.