Froggy Eats Out
Written by Jack London
Illustrated by Frank Remkiewicz
Reviewed by Connor S. (age 7)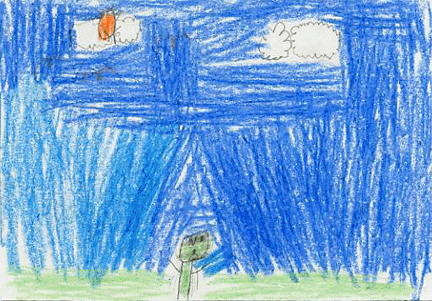 Have you ever seen a frog with a red face? I have, in "Froggy Eats Out". Froggy goes to a fancy restaurant for dinner and orders spaghetti with fly sauce. Everything is going great until he sees Frogilina, a girl frog. Froggy gets shy and falls off his chair and his spaghetti with fly sauce lands on his face. He leaves the restaurant and leap frogs to a fast fly place and they all eat burgers with ...can you guess what on top?
I think the book is funny and fun to read. I liked it a lot! My favorite part was when froggy ate flys. It was very funny when he did this. I liked froggy because he was funny. This book is not the same as any other "Froggy" book because it is the only one that he eats out at a restaurant. The illustrations were very colorful and nice.
This story reminds me of when we went out to Old Country Buffet and had a lot of problems. I would recommend this book because is is really funny. Happy reading!