Owen Foote, Second Grade Strongman
Written by Jon Bransfield Graham
Illustrated by Dee DeRosa
Reviewed by Sammy M. (age 7)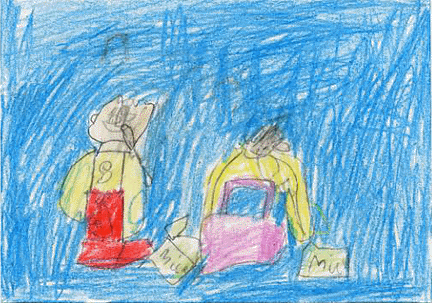 Owen Foote had a grandpa who was a strongman, but Owen learned that his grandpa's strength came from his character. Owen was surprised to learn that even though he did not get his grandpa's muscles, he did inherit his grandpa's strong character. This is a very good book, read it if you get the chance.
I thought the book was interesting and funny. I liked the book because it was a great story and easy for me to read. I understood Max a little because I am in second grade too. My favorite part was when Owen said to the nurse, "You talk too loud and you hurt people's feelings." I thought that was really funny. I also liked the pictures in the book. I pictured Owen the same way the illustrator drew him.
This story reminds me of when I talk back to my teacher and get into trouble. You should read this book because it is a great and funny story! 1st and 2nd graders will love it.