Mouse Deer's Market
Written by Joanna Troughton
Reviewed by Ramon R. (age 9)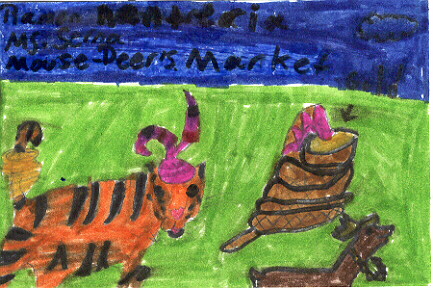 This book is about a deer that falls into a hole. A Water Buffalo passes by. The deer said ?come to Mouse-Deer?s Market. All the animals heard the news as soon as they heard they all jumped into the hole to go to the market. When all of the animals were in the market he told the to close their eyes and they would see something incredible. If you would like to know what they saw you must read Mouse-Deer?s Market.
My favorite part was when Mouse-Deer told the animals to came into the hole and close their eyes. I liked the book because it has nice illustrations and lots of colors. It is also a very interesting book. I have read it twenty times. This is one of my favorite authors because she uses a lot of details in her books and the illustrations are beautiful.
I recommend this book to all the kids in the world that like animals and like folk tales. This book has lots of bright colors in the illustrations. There is another book by the same author Joanna Troughton that I am reading the name of the book is Who will be the Sun?