BFG
Written by Roald Dahl
Reviewed by Ryan S. (age 10)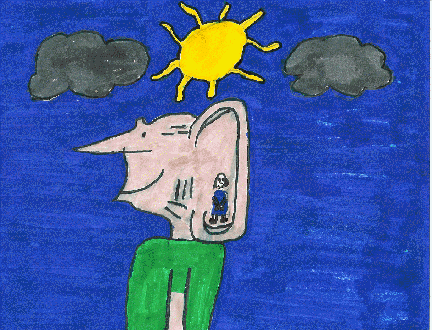 The BFG is about a girl named Sophie and a giant called The BFG. Sophie learns no matter what size you are; you can still be a good person (or giant).
One night an orphan named Sophie couldn't go to sleep. The BFG came along the streets and snatched her because she saw him and that is bad. He brought her to giant country. In giant country there are eight mean ugly giants. The BFG is not one of those eight. They eat children all over the world. They have wonderful names like Bloodbotter, Fleshumpeater and Bonecruncher. The rest of the book is about Sophie and The BFG's adventures in giant country.
My favorite part was when an army helicopter took the eight giants away by flying them upside down. It was so funny.
I thought the BFG was a very interesting character. I think that because his use of the English language was very shaky. For example when he said, "Exunkly," instead of exactly.
This book is like The Twits that was also written by Roald Dahl. It is like The Twits because it is very funny. Like when The BFG is out catching dreams, Sophie rides in his ear. In The Twits Mr. and Mrs. Twit are always fighting and playing practical jokes on each other.
I recommend this book because it makes you laugh a lot. It is because The BFG is the funniest character out of any book or movie I have ever read or seen.
If you like funny stories this is the book for you. The author's writing style is really cool because he makes up his own words. Kids from ages 7-12 will enjoy reading or listening to this story. I hope you will read this book. I know you will like it.