Ghost Game
Written by Marcia Jones
Illustrated by Jeremy Tugeau
Reviewed by Mitchell C. (age 8)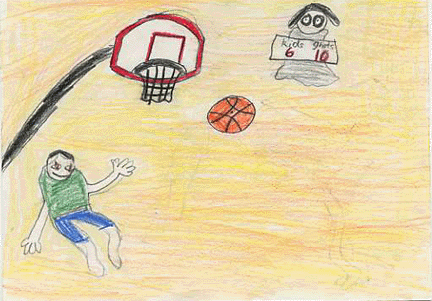 What would you do if you thought your school was haunted? Are you as brave as the kids at Ghostville Elementary? Would YOU go into school after hours.....aoooooooooh. Well, Cassidy, Nina and Jeff do go into their school after hours. They discover that there are ghosts in their school...and they are very mischevious! These three students are trying to practice for the championship basketball game against the school bully, Andrew and his team. But these friendly school ghosts; Ozzy, Beaky, Sadie and Huxley keep getting in their way. And you thought your school was spooky. Read this book and you will see how much fun it could be to play with ghosts. I give this book a thumbs up!
I thought that this was a very good book because the character of Jeff is just like me. My favorite part was when the ghosts messed up the school. I feel like that would be alot of fun to do in my school.
I would highly recommend this book to kids because there was lots of action. Read it today!