Sammy Keyes and the Hotel Thief
Written by Wendelin Van Draanen
Illustrated by Yaccarino, Dan
Reviewed by Adam V. (age 11)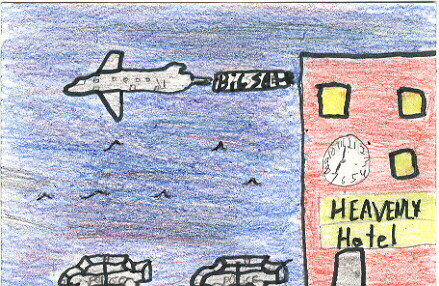 Have you ever been a witness? Well. Sammy Keyes has. She saw someone steal some money out of a purse at the heavenly hotel through binoculars. You are not going to believe what she does next, she waves at him. She was going to call the police but she doesn't, she tells her best friend Marissa. If you really want to find out more, try to find the book Sammy Keyes and the hotel thief.
I like this book because it was fun to try to find out who was the hotel thief. I also liked this because it was a mystery and it was funny. My favorite part was when Sammy punched flare head right on the nose because she put a pin right where Sammy was going to sit. My favorite character was Sammy Keyes. The book reminded me about when I was a witness of a car crash.
Have you ever read a mystery book? I will recommend this book to anybody that loves mysteries. The reader that reads Sammy Keyes will like the funny things that she does like punch flare head on the nose. I think the reader will be interested in who the thief was.