Dogs Don't Tell Jokes
Written by Louis Sachar
Reviewed by Yasmeen S. (age 10)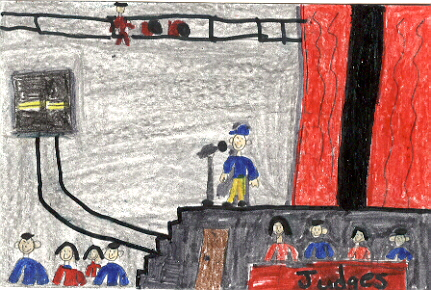 Have you ever read a book called Dogs Don't Tell Jokes? Well, it's about a boy his name is Gary W Boone. Gary wants to be a stand up comedian. Soon after a hard day at school a girl named Brenda Thompson head of student council puts a poster up about a talent show. Gary soon sees the poster but can't find who to tell that he wants to be in the talent show. The prize for first place is one hundred dollars. When the day of the talent show arrives Gary goes up on stage to tell jokes. You think he's the one that tells the best jokes well, the joke is the cause why Gary is wearing a hat. To find out what is so funny about why Gary is wearing a hat, read Dogs Don't Tell Jokes.
Dogs don't tell jokes reminds me of when my cousin had a school play about the Wizard of Oz. He had to remember his lines and he played the part of the lion and when the play was over he did very well just the same as Gary did in the book. I think this book was a good book because I couldn't put the book down. This book is like what do you think will happen next. This is just like Wayside School is Falling Down, because they both have humor and they both are just right books to read. That is my opinion of the book.
I would recommend this book to anyone who likes to read books by Louis Sachar. Also, I would recommend this book to people that like humorous books.