The Egyptian Cinderella
Written by Shirley Climo
Illustrated by Ruth Heller
Reviewed by Karen N. (age 10)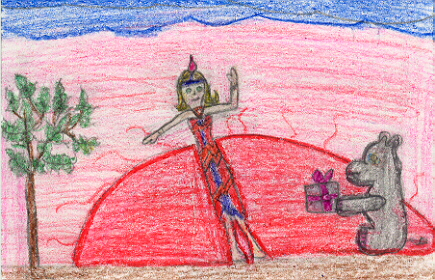 This book is about a hippo that gave Cinderella some golden slippers because she was a great dancer. When she got home the other slaves that lived with her were jealous because she had golden slippers. One day an eagle came and took one of her slipper and dropped it on a prince. The prince found the slipper and said, "Every Egyptian girl must try it on." Find out to see if the prince finds Cinderella and what happens with Cinderella and the prince. Read the Egyptian Cinderella.
This book is interesting because it has lots of interesting characters like Cinderella and the prince. They are interesting because they are smart and generous. My favorite part is when the hippo gave Cinderella some golden slippers. I like that part because the hippo is so generous. This book reminds me of the original book Cinderella because it is very similar.
I recommend this book to everyone that likes Cinderella. The main idea is very similar but with different characters. So if you like Fairy Tales read The Egyptian Cinderella.