The Pen is Mightier than the Sword
Written by Anne Mazer
Illustrated by Anne Mazer
Reviewed by Taylor C. (age 10)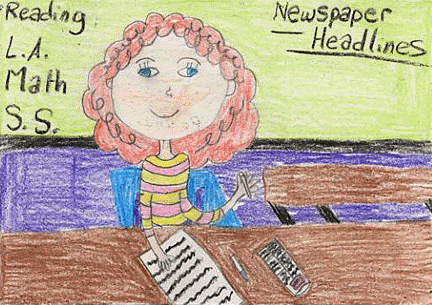 "Gabby Abby, What's this book about?" Abby Hayes dreams of being the star writer in the school newspaper her class is writing. Instead of becoming star reporter, Abby becomes an advice columnist who gets placed at the back of the newspaper. When Abby's teacher tells her to be a little less serious about her job, she answers a question that insults the person who wrote it. When she finds out it was her newest friend Natalie, Natalie gets mad and she doesn't talk to Abby for a few days. Abby finds out what she did wrong and was upset about it. She wants to be put in charge of another article. Abby came up with the idea of a "Student in the Spotlight" article. The article would talk about a student who works hard and achieves many goals. Abby picks Natalie to be the "Student in the Spotlight." She wanted to say sorry. Natalie thanks Abby and Abby promises never to talk bad to her friend again. She discovers that the pen IS mightier than the sword!
My favorite part of "The Pen is Mightier Than the Sword" was when Abby volunteered to be put in charge of another newspaper article, "The Student Spotlight." There are other books in this series. Look for these books at your public library. I also read, "Two Heads Are Better Than One." I think this series is a hit!
I recommend this book for 5th grade girls, especially if they like to keep a journal.