Twas the Night Before Thanksgiving
Written by Dav Pilkey
Illustrated by Dav Pilkey
Reviewed by Armand G. (age 8)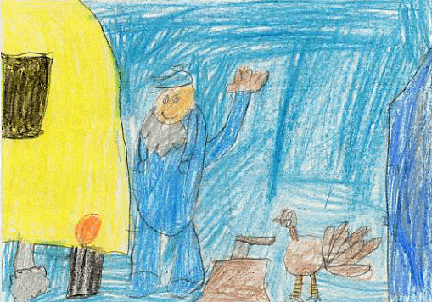 Gobble! Gobble! Eight kids go on a field trip and guess where? To a turkey farm! They see eight tiny turkeys! If you want to find out what happens, read the book!
I think the story is good. I thought the turkeys were going to die. But, the kids were clever. My favorite part of the story was when the 8 kids hid the turkeys under their shirts. Sometimes, I hide stuff that I want to keep. I felt bad at first when I thought the turkeys died. I did feel relieved when they didn't die.
I would recommend this book to skinny kids because the could fit turkeys under their shirts like the kids in the story. If you like Thanksgiving or turkeys you will love this book. Gobble, Gobble!