Ramona The Brave
Written by Beverly Cleary
Illustrated by Alan Tiegreen
Reviewed by Mabel M. (age 10)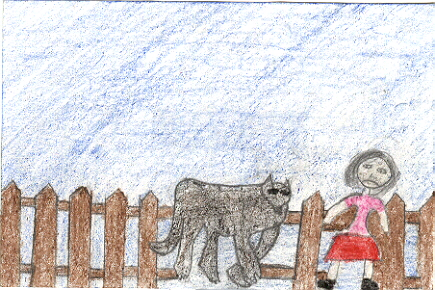 Ramona the Brave is a story about everybody calling her a pest. But then she is brave enough to defeat a dog, now everybody thinks that she is very brave. If you want to see how Ramona likes being called the "Brave" check out this book and read. You will enjoy reading this book. The characters are Ramona, Beatrice, Ramona's dad, Ramona's mom, Howie, and Mrs. Griggs. I liked this book because it's funny, fun and enjoyable for kids of all ages.
I enjoyed this book because it's fun and very enjoyable. This book reminds me of another book that is called Superfudge because in both stories the characters are called the pest. This book reminds of my sister because Beatrice (Ramona's sister) always is noisy and so is my sister. My favorite part was when Ramona said a bad word and everybody began to laugh and she began to cry. She began to cry because she wanted everybody to be shocked and horrified but they weren't so she started to cry.
I recommend this book because it's a good, interesting book for little kids to read. It's a humorous and wonderful book. People who like to be brave will enjoy this book because Ramona wants to be brave. The part that you will enjoy a lot if you read it, will be the part when Ramona told these 6th grade boys to stop making fun of her sister's name they called her Beezus Jesus. So Ramona defended her and Beezus got mad at Ramona.