Mr. Popper's Penguins
Written by Richard and Florence Atwater
Illustrated by Robert Lawson
Reviewed by Joel B. (age 10)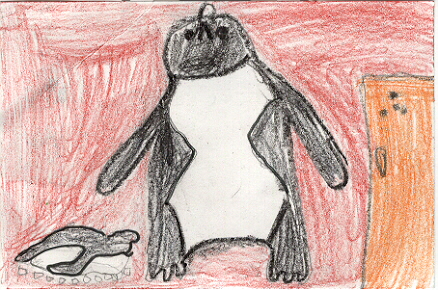 This book was about this guy named Mr. Popper who wanted to get his penguins to be performing penguins. The reason he wanted performing penguins, was because he was broke and he needed some money. I like the part when the penguins are performing and they do a performance with a ladder and a big piece of wood. When they were performing with those items, they were doing it all wrong. They were climbing up the ladder and falling off the piece of wood instead of turning around at the end of the big piece of wood and climbing back down the ladder. If you loved this summary then you will love that book.
My opinion about the book is that it is a fun book to read and it is a very funny book. My favorite part of the book is that the penguins were not doing what they were suppose to be doing. I loved the book and I am glad that my literacy group picked it. It reminded me of the book about Matthew Henson in the North Pole. It reminded me about Matthew Henson because penguins are from the North Pole and he was the first one to reach the North Pole.
I am going to recommend it to my brother Ruben because he will love this book and he will laugh and laugh and laugh. I will recommend it to him because he would really want to read it. One day I asked him if I recommend a book to him will he read it. He said O.K. but make sure it is a funny book.