Goosebumps - Beware the Snowman
Written by R.L. Stine
Reviewed by Alexis M. (age 10)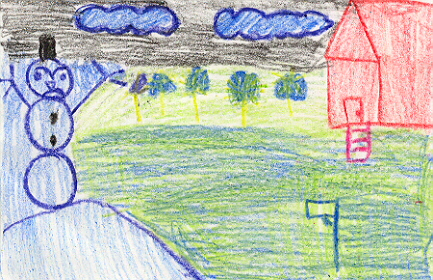 Have you read the book Beware, The Snowman. Well you should, it's a very interesting book. This book is about a girl named Jaclyn who just moved from Chicago to a village called Cherpia with her aunt Greta. Jaclyn meets some new friends named Drew and Rolanda. So far Jaclyn had already gone to all the places in the village except for one. She hadn't gone up to a mountain covered with white snow. She hadn't gone to that mountain because Rolanda and Drew didn't let her. The reason they didn't let her go up the mountain was because they said there was a snowman who lived up the mountain and never came down to the village. He was always watching everyone from the top of the mountain including Jaclyn. Would Jaclyn ever find out who was this snowman? Read the book Beware, The Snowman and find out what happens to Jaclyn and her friends.
My favorite and best part of this book is when Jaclyn moved to the village and meets new friends. I liked that part because it reminded me of when I moved to Colorado and I had to make new friends. I like this book because Jaclyn is a very brave girl and she's not afraid to go up that mountain and find out what's going on. This book reminds me of when I wanted to find out what was behind our garage and my brother didn't let me. Finally, I found out what was behind the garage.
I recommend this fiction book to the boys and girls that like scary things and that like to get scared by books like this one.