Muggie Maggie
Written by Beverly Cleary
Illustrated by Alan Tiegreen
Reviewed by Flor G. (age 10)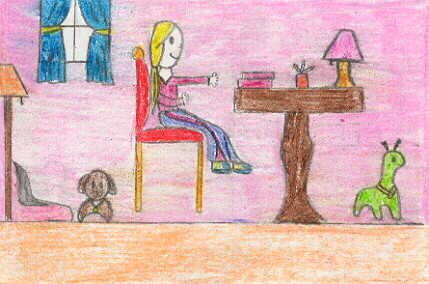 This book is about a girl name Magge. Magge likes school very much. One day the teacher says to her class that they need to learn how to write in cursive. Magge doesn't like to write in cursive, so she decides not to write in cursive. The next day, the teacher figured out a plan. The teacher asks Magge if she wants to be the mailgirl and Magge said yes. Magge's first day as a mailgirl didn't go to well. She tried to read the letters but couldn't understand what the letters said because they were in cursive. Read Magge Mugie to find out what happens? Does she quit her job? Does she learn cursive?
I like this book because I think it's cool when you learn something new. Magge reminds me of my brother because he didn't like cursive writing either. I like the illustrations too because they describe the characters and they are very beautiful.
I recommend this book to all the boys and girls that like to learn new things, that like to write in cursive and all that like to go to school everyday. This book is for you.