The Mystery of the Stolen Bike
Written by Marc Brown
Reviewed by Ivan B. (age 10)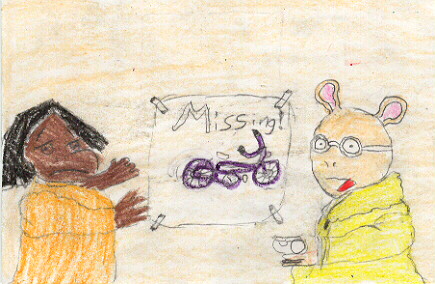 This book is about a girl named Francine and a boy named Arthur. Francine wanted a bike for herself because she didn't have one. Francine's father gave her his used bike. Francine didn't like it and was embarrassed to ride it to school. She threw it in the trash and told everyone they had stolen it. They didn't know where it was. Her friend begin to look for the thief. Will they find out the truth or a thief?
I liked this book because it reminds me of a book about Scooby Doo that had stolen the cheese from Frank's Pizza Place. The character that I liked best was Arthur because he was generous in helping Francine. When I was reading this book I felt excited because it had a lot of details. That's why I was excited to read this book. If you want to know if they find Francine's bike you should read the book Arthur and The Mystery of The Stolen Bike.
I recommend this book to the kids that have received something that belonged to an older family member and didn't like it because it was old. It's a fun book for you to read. You could find this book in your library at your school.