The Ersatz Elevator
Written by Lemony Snicket
Illustrated by Brett Hilquist
Reviewed by Cali M. (age 10)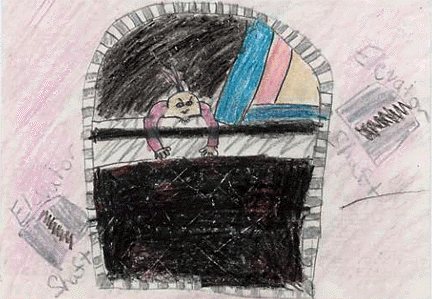 He is lurking around everywhere! I am talking about Count Olaf. He is constantly following around Violet, Klaus and Sunny Baudelaire. He is trying to steal their fortune. Their parents died in a fire and left behind an ENORMOUS fortune. "The Ersatz Elevator" is the 6th in a never ending series of the misfortunes of the Baudelaire orphans. The Baudelaire orphans keep moving from one guardian to another guardian. They are now with Esme and Jerome; some of their parents' good friends.
The orphans must deal with Esme constantly talking about fashion, Jerome telling everyone not to argue, a darkened staircase, a secret passageway, friends in a dire situation, three mysterious initials, a liar with an evil scheme, parsley soda and one VERY ersatz elevator.
Yet, you still have a choice to look for another book before it is too late....
My favorite part was when Esmie throws the Baudelaire orphans down the elevator shaft and they think they are going to die. However, they are caught by a huge net just in time. There are many other books in "A Series of Unfortunate Events." The story reminds me of real life because kids get into all kinds of mischief.
I think boys and girls of grades 2 through 9 should read this book it is easy to understand and the author gives a lot of details to the reader.