Hangman's Curse
Written by Frank Peretti
Reviewed by Kylee K. (age 10)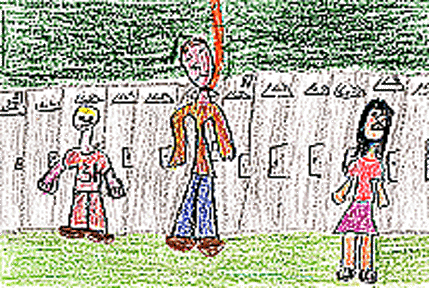 Ahhhhhhhhh! If you like scary stories this is a book you should read. This book is about a team of investigators. Now don?t start thinking about adults. This team is a family called THE VERITAS PROJECT, the Latin word for truth. In the book there is a ghost called Abel Frye who hanged himself on a stairway. This ghost makes the teenagers freak out. They all start to hallucinate that a Eagle (the ghost?s pet) is trying to hurt him. Then they go to the hospital where some were close to dying. The people who are causing this are a group of teens who think they are witches. Now we all know that there aren?t witches or could there be?
The parents are mostly just part of the crowd but still do a lot of work. The mom is the electronic wiz. The dad is the detective who helps put the clues together.
Elijah and Elisha are the teen twins. They are the main part of the book. According to the book they are both a ?sight for sore eyes.? These two are the clue finders since they have found most of the clues.
This book is part of the series called The Veritas Project. There is only one other book, that just came out. It?s called Nightmare Academy and it?s practically the same. This book isn?t like anything else I?ve read before because it?s so spooky. The story has a moral to it. I think the moral is be nice to people even if you don?t like them.
I recommend the book to people who read really scary stories because it almost makes you want to scream. The part that really makes you want to read the book is when they find a very important clue a .............soda straw wrapper! I can?t tell you why it?s so important so go read the book.