Liar Liar
Written by Barthe DeClements
Reviewed by Taylor S. (age 11)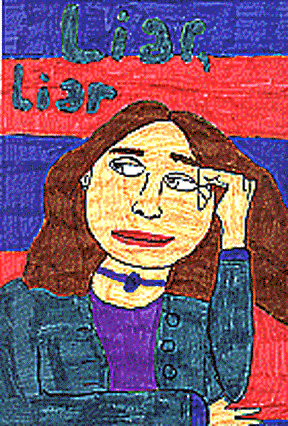 This book is about a big liar. A girl named Marybelle Jackson starts spreading rumors about many of her classmates and even her teacher! She says things like, ?She stole those!? or ?The principal has a crush on her.? Everyone believed Marybelle until one girl named Gretchen went out to prove that she was wrong. Gretchen started out just trying to get her back for shaving her best friend?s hair during a demonstration in front of the class, but then when Marybelle starts spreading rumors about her, Gretchen proves her wrong not only for the truth, but for herself.
I recommend this book to anyone who likes a good fresh story. This book will keep you reading once you read the first sentence. There are no illustrations in this book but you don?t have to have illustrations, because this book will make your imagination keep going. I loved this book because only a very good writer could make something seem so real without pictures, or without it actually happening to you. I think one very interesting character was Marybelle because she thought she could get away with anything and do whatever she wanted to do, whenever she wanted to do it. I was kind of surprised that Marybelle changed at the end of the book. She was happier than she used to be because she got all the lies out.
So if you like a good book read Liar, Liar.