Love from Your Friend, Hannah
Written by Mindy Warshaw Skolsky
Reviewed by Katey M. (age 10)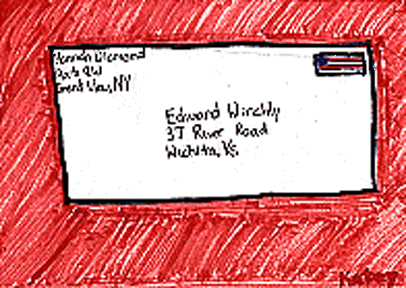 Poor Hannah!
Hannah Diamond?s best friend has just moved away. She promised to be pen pals, but Hannah has already written five letters and Aggie hasn?t answered one!
Soon Hannah picks a slip of paper from a box on her teacher?s desk labeled PEN PALS. Oh no! Hannah?s teacher is watching her choose a paper, and she got a boy! She cannot slip the paper back in now. Her teacher expects her to be a good sport. Trying to be polite, Hannah writes Edward a nice, friendly, three-page letter, telling him about her family, house and mountain. It was a boy . . . why had she kept her hopes so high?! A couple of weeks later, she receives not a letter but two lines, I do not have a mountain. I have a cow, and an unfriendly P.S. Hannah is so mad, she doesn?t write him back. And then she gets an idea, her best yet...
I like this book because I like to write letters like Hannah does. It?s special because it is all letters written to and from Hannah. It reminds me of my life because I was disappointed when I had to move from Texas. One of my friends and I are still pen-pals, though. You just can?t stop reading the story! I recommend this book to anyone who likes to write letters. So don?t miss this novel by Mindy Warshaw Skolsky. Pick it up at your library today!
P.S. You?ll never guess who Hannah wrote to!