The Girl with Silver Eyes
Written by Willo Davis Roberts
Reviewed by Shelby N. (age 10)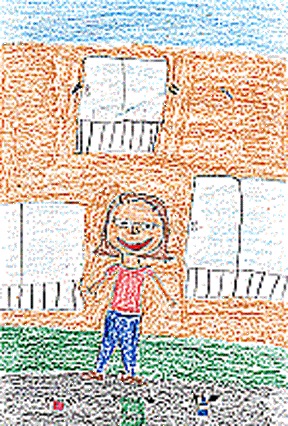 Do you wish you had special powers just like a super hero? Katie has some - she can move things just by thinking about them! She used to live with her grandmother, but then her grandmother died so now she has moved in with her mom, Monica, into an apartment. Katie meets Mrs. M across the hall and tells her the whole story because she trusts Mrs. M. But then mysterious Mr. Cooper moves in. Every time he?s with Mrs. M or Monica he?s asking questions about Katie. What does he want from her?
I think this is a great book! It has so much adventure and keeps you turning the pages. I like it a lot because it?s about a girl close to my age having adventures. I?ve read Don?t Hurt Laurie and The View From the Cherry Tree. Both of these books are by Willo Davis Roberts and are like this book because they?re about a kid with one major event happening. As I read the book I felt as if I was a character in the story, but no one could hear or see me. I was just listening into conversations.
I recommend the book because any book by Willo Davis Roberts is a good book. I think an independent reader would like this book although a big group might like it but it?s pretty long. The entire story would interest readers because every page is an adventure.