Dolphins
Written by Sharon Bokoske Margaret Davidson
Illustrated by Courtney
Reviewed by Stephanie S. (age 8)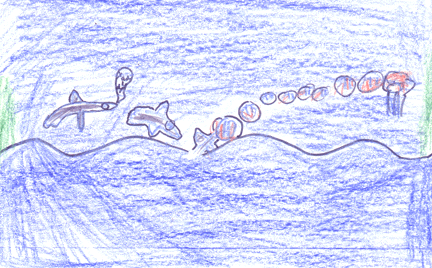 This is a book called Dolphins and in the book they tell what white dolphins learned to do. They learned to ring bells, and raise flags, and shake hands, and bat balls, and they can paint too. They are very talented.
Can they understand human words? Can a dolphin be a mailman? Can a dolphin save human lives?
Find out all about these amazing creatures in this exciting book. Find out the ending by yourself.
What is special about this book is the ending because it says why it is so special for a dolphin to be free. To be free means that dolphins can't be kept in an aquarium for a long time, they need to be free and swim in the ocean.
This book is not like any other book I have read because it tells about dolphins and I have never read about dolphins before.
I recommend this book to anyone who likes animals and who like to read non-fiction books.