The Ersatz Elevator
Written by Lemony Snicket
Illustrated by Brett Hilquist
Reviewed by Kylee K. (age 10)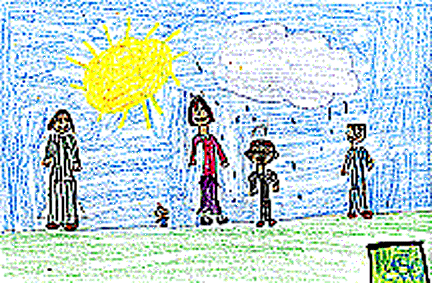 Have you ever felt like someone is after you? The Baudelaire orphans have, but that is because someone is really watching them. Violet, Klaus, and Sunny are at the Squaller?s 71-room apartment. This time Count Olaf is disguised as Gunther, and hiding the Quagmire triplets in an empty elevator shaft. In the ?In Auction? he tries to hide the Quagmires and you will have to read the book to find out what happens next.
Violet is 14. She likes to invent things. You can tell when she is trying to invent something because she ties her hair up in a ribbon.
Klaus is 12. He likes to read. He loves to show off how smart he is.
Sunny is only a baby. She has 4 sharp teeth. She loves to bite really hard things.
I thought that the book was amazing because it was funny and mysterious. My favorite part was when Esme said that aquilles martinis were out and parsley soda was in, because it was funny. The story reminded me of New York, because they lived in a really tall apartment. I think that everyone should pick up this book and read it.