James and the Giant Peach
Written by Roald Dahl
Illustrated by Quinton Blake
Reviewed by Adam P (age 8)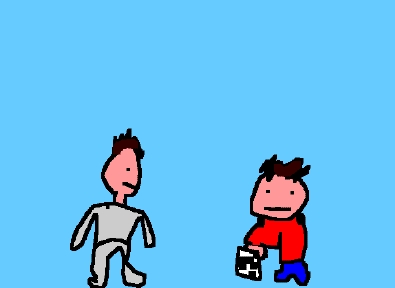 This book is about a boy named James and he had a mom and dad, but they got eaten by a dinosaur. James had to live with his Aunt Sponge and Aunt Spiker. They were very mean to James. One day James went into the garden. There was a old man with a bag of little green things. He gave the bag to James. James ran as fast as he could to his house, but he tripped over a rock and all the little green things fell out of the bag and into the soil. Aunt Spiker saw a peach on the tree. It got bigger and bigger. Aunt Sponge and Aunt Spiker sold tickets to see the peach. James had to pick up the garbage from the people. He saw a hole, and he went in it. There were bugs - human size! All of them went into the sea. They got on land soon. They lived happily ever after.
I really like this book. I would let anyone read it, and they would probably like it. My favorite part of the story was when the peach rolled down into the ocean. There were a couple of black and white pictures in each chapter. The pictures made each chapter more interesting.
I would recommend this book to a friend. Even a friend that does not like fiction.