Days With Frog and Toad
Written by Arnold Lobel
Reviewed by Shanay D (age 10)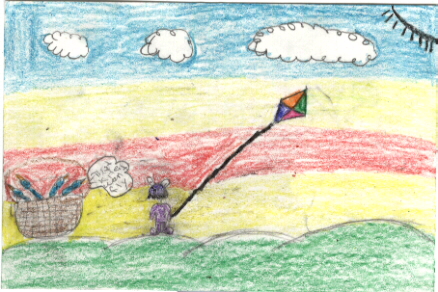 In this story the characters are Frog, Toad & some robins. They are best friends and one day they go out to fly a kite. Frog and Toad try to fly a kite and they failed. They tried and tried. The first time they tried the kite flew in the air and then dropped back down on the ground. Toad ran to get the kite and as he got there a robins nest was by the kite and the robin said, "That kite will never fly." Toad ran back to Frog saying, "Frog this kite will never fly." Frog told Toad not to worry and to try to fly the kite once more. Toad ran, jumped, and let the kite go. The kite flew up and back down. The kite hit the ground with a loud boom. Toad ran to get the kite and the robins where laughing. Toad ran back to Frog crying. Frog told Toad to be happy and to try one more time. So Toad ran, jumped and let the kite go. To find what happened next check out "Days with Frog & Toad."
My favorite part is when they keep on trying to fly the kite and don't give up. I liked the book because it tells you not to give up.
The pictures are also good because they make you feel like you're in the story. That's why I require you to read this book. The illustrations are unique in that they show a frog and toad walking and playing. Frog & Toad remind me of my friend and I because they doing everything together.