Happy Birthday Biscuit
Written by Alyssa Satin Capucilli
Illustrated by Pat Schories
Reviewed by Bryeana V (age 9)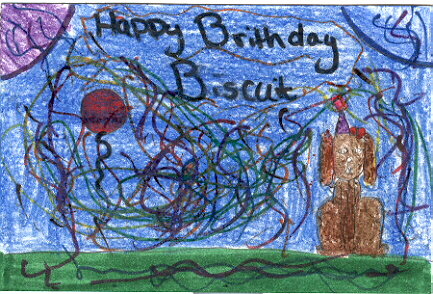 This story is about a dog named Biscuit. On his birthday he waits for his friends so he can play with them. After he waits for them, they arrived at the owners house. The owner that owns Biscuit is so nice. Biscuit is so cute and cuddly and so fun to play with everytime he comes home.
I think this book is wonderful. The best thing about it was when Biscuit opens his presents. For his birthday he got a box of dog biscuit's, a new collar, and a new bowl, and a new bone There is one more thing he had for his birthday he got a birthday cake and the little girl said,"Make a wish Biscuit!" and that's all Biscuit got for his birthday. The dog was sooooooo cute! I think Biscuit is cuddly and cute. I hope you like my book review.
I recommend this book to everyone in all grades because it is a good book to read that has lots of pictures and characters. I really like this book because it was a beautiful and a wonderful book.What do you think will happen next?