The Magic Finger
Written by Roald Dahl
Illustrated by Tony Ross
Reviewed by Audrianna E (age 9)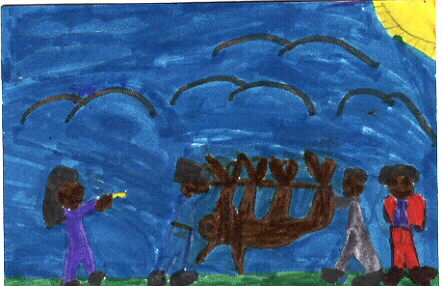 The Magic Finger is a great book. It is also very funny. It is about a little girl and her two friends Philip and William. On one Saturday morning the two boys and their father went deer hunting and they caught one deer. Then the girl was very mad at them for killing the deer. So, she put up the magic finger. If you want to know what happened read the book!
I think this book is fabulous. I like this book because it is hilarious. I really like the part when the Gregg family got turned into ducks! I think the girl is interesting because she has a magic finger that turns people into animals when she gets mad. I think the illustrations are a little interesting but my favorite picture was the one when the Gregg family found out they had been turned into ducks.
I recommend this book because it is so funny. Especially when she told the little story about when she turned her teacher into a beaver. Well, any way if you like to read funny books you should read The Magic Finger! If you like other books by Roald Dahl you will like this one too.