The Time Machine
Written by H.G. Wells (adaptation of)
Reviewed by Alicia R (age 11)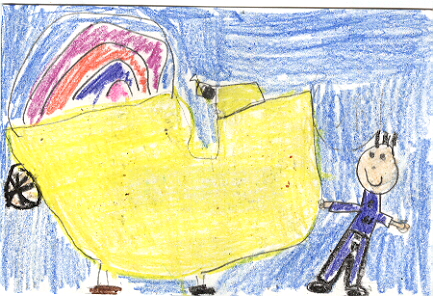 Have you read The Time Machine? If not you should. There's a man that made an invention. It was a machine that goes back in time or to the future. Will he come back form the future or the past? Will he ever come back? If you want to know then read the book. You can buy this book or you can find it at your local libary.
I like this book because it reminds me of the movie Back to the Future. In both the book and the movie, people go to the future. I didn't like the people in the book because they seemed odd. One was a scientist and a teacher at the same time. He teachs during the day and goes home and does experiments at night. He was also always late for everything. I liked this story and would like to read other books by H. G. Wells because he tells a good story. The illustrations were good because they showed the inventions the scientist made.
I like this book because it is science fiction and I like science fiction books. And this reminds me of Ashley because she is good at science and this is science fiction. People that like science and science fiction will like to read this story. It was an easy chapter book to read.