Where the Red Fern Grows
Written by Wilson Rawls
Reviewed by Rachael R (age 9)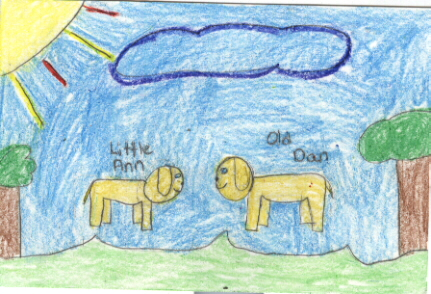 This is a good touching story about a boy and his two dogs, Little Ann and Old Dan. One day Billy goes and buys two little dogs with his own money. He trains his two dogs. His family lets him go hunting almost every day. Do his dogs die or do they live? If you want to find out you have to read the book "Where the Red Fern Grows".
I like this book because they talk about two famous dogs. My favorite part was when Billy brought Little Ann and Old Dan to his home. My favorite characters are the two dogs because they are small and they are famous. I like kittens better then dogs because kittens cuddle and dogs don't. Dogs are hard to train and they are rough. What kind of pet do you have at home? Is your pet nice or mean?
I suggest this book to people who like sad stories because Where the Red Fern Grows is a very sad book at the end. You should read Where the Red Fern Grows because it is a great book. Everyone can read this book even if you don't like sad stories.