Money Troubles
Written by Bill Cosby
Illustrated by Varnette P. Honeywood
Reviewed by Tiauna H (age 9)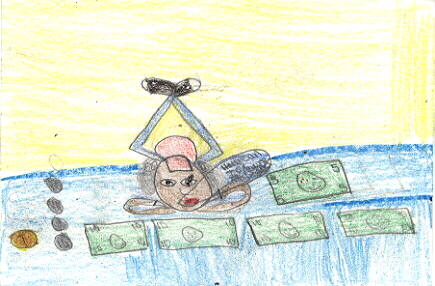 This book is about a little boy named Little Bill and how he is having trouble adding his money together. Little Bill is trying to save his money to get a telescope. He wants to get a telescope but he doesn't have enough money to buy one. To earn money he does a couple of odd jobs for his neighbors. This story takes place in his house with his family members.
This book is so funny because he doesn't want to get a hair cut. I loved this book because it reminds me of when I was 5 and 6 years old. My favorite part was when he didn't want to give up his ten dollars that his mom gave him to get a hair cut. I found the mom interesting because she's not like my mom. She kind of reminds me of my Aunt Nita because she gives me money and tells me to go do things with it. The illustrations were great. They show how the mother is giving him money. The pictures were colorful. This book is not like any other book I've read. I've read other books by the same author. You can find other books in the libary at your own school. I would love to play the mom in this book.
I recommend this book to kids that love to watch the Little Bill show and love to read no matter what grade you are in. It is a great book.I loved it and I bet you will too.