Matilda
Written by Roald Dahl
Reviewed by Rebecca B (age 9)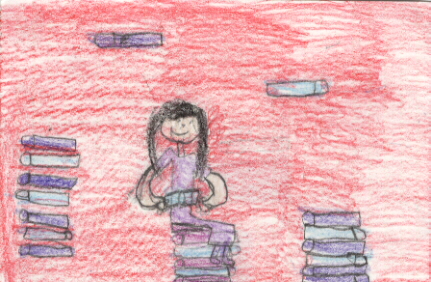 Matilda is a great book! I loved it very much. This story is about a little girl that has powers and she is very intelligent, but she never gets the attention that she deserves. Then, Matilda met a young lady named Jennifer Honey. She would talk to Matilda as if she was her real mother. Matilda loves Miss Honey a lot. At the end of the story, Miss Honey adopts Matilda. Matilda does a quite a few mischievous things herself, but that's for you to find out.
I think this was a terrific book because I felt like I was Matilda.I liked this book because I saw the movie and I was interested to read the book. One of the characters in Matilda was Miss Trunchbull. She changed at the end of book. Miss Trunchbull changed because she was very scary, but at the end she was scared. She was scared because Matilda was using her powers to act like Miss Honey's father, but Miss Trunchbull didn't know it was Matilda.
If you like adventurous and comedy books then this is your kind of book.You should read this book because it is hilarious and interesting. You shouldn't read it if you don't like comedy.